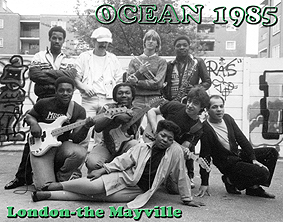 My main involvement as a drummer during this period was the funk-soul-band "Ocean". With Ocean I played many gigs in and around London. This band also liked to experiment and that brought us into many studios. Beside numerous demo-productions we also produced a maxi-single, which was also available in the shops. I provided the funds and acted as producer. We managed to get good write-ups in the music press and to engage one of the main british distributors for black music, "Jet Star" to deal with the distribution. see also under: MUSIC/project history/OCEAN
The lead-singer of Ocean was no one less than Anne Elisabeth Semper, later also known as "Betty S.". Between Betty and myself a strong musical bond soon developed, which would bear fruit for many years yet to come. The funky bass was masterly played by Betty's brother Freddy Semper and as accompanying harmony voice Paula Prince and Tania Evans contributed to the final perfection of the overall sound, who, three years later, gained international reputation as the leading lady in "Culture Beat".
My main engagements during this period were, of course, the band "OCEAN" and my first real and independent enterprise "CHEN ENTERPRISES", which I decided to establish together with my three companions at the time: Mukta Lasprilla, Nirup and Andrew Grinter. The initial idea, besides becoming self-employed entrepreneurs, was, to establish a productive centre of artistic activities. At it's peak we had about 100 members in the visual arts and 35 craftspeople on our books.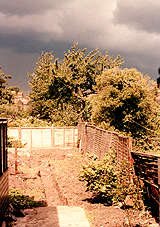 From February 1985 till December 1987 my 'base of actions' was in North London at No. 52 Turnpike Lane. When I could move into the larger downstairs flat, I also gained access to the garden, which was at this time nothing more than a rubbish heap. Thus I found a new activity to try my hand: gardening. So over the next couple of years I spent quite some of my spare time improving the site. My landlord Harry Charalambous paid for some of the materials and tools needed and my friend Benny Burnett gave me plenty of different seedlings and bulbs to put into the soil.
Turnpike Lane Garden before and after careful treatment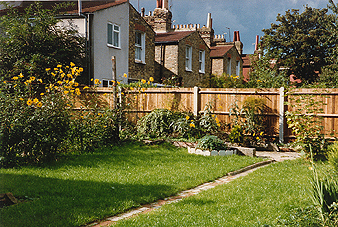 So, by the time I left the premises the garden looked quite respectable and I had discovered my 'green thumb' and I was also rewarded with some gorgeous views for myself and my camera.