1995 HIGHLIGHTS
1994 I started as a freelance member in Pimpfy's production company "Cosndola Production", which was just setting up a 48-track recording studio in Vienna. This liaison with it's various peripheral activities constituted a great deal of my artistic activities for long years to come. I played the drums for the band P.C.B. as well as for other projects running within this framework and helped with the programming, arranging and also as a vocalist.
1995/96 P.C.B. produced the album "Completely Squashed" and at the end of 1996 the LP "Wahnsinn", songs written by Rudi Treiber, an Austrian singer/songwriter.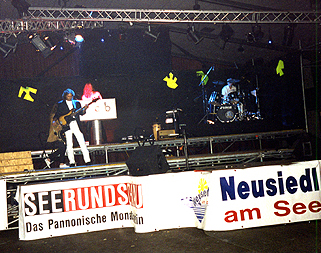 Views of the newly built Studio in the 17th district of Vienna. I have tried my hand in carpentry, with some interesting results.