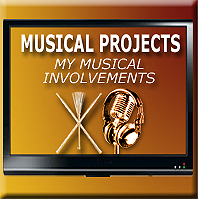 Education:
1958 – 1964 Vienna Choir Boys;
1971 – 1974 Music Highschool Vienna (concert-percussion; electro-acoustic music and a basic course in sound engineering).
Studio work: Classical Music:
1960 – 1964: 5 LPs with the "Vienna Choir Boys" (singing);
1967 – 1973: 7 LPs with "Chorus Viennensis" (former Choir-Boys) (singing)
1972 – 1974: 3 LPs with the "Wiener Schütz Kantorei" (singing)
Contemporary Music:
1977 – 1990: work as studiomusician (drummer / vocalist), soundengineer and co-producer at the "Archipelago-Studio" in London / Pimlico and as a freelance drummer/vocalist for various studios in London, Sussex and Somerset.
1989–1990: executive partner in the jingles-company "SOUND SOURCE" as drummer/vocalist, programmer and co-producer.

1990/1991: production of my first LP with my own original song-material in Vienna.
June 1991: work as production assistant for a set of jingles in Seggiano and Rome / Italy.
September/October 1993: work as programmer and production assistant for LP-production in Port-of-Spain / Trinidad.
1992 – 2008: worked as a freelance partner for the Label "Cosndola Production" and for other clients as drummer, singer, composer, programmer, lyricist and (co-)producer. (see also section CDs and DVDs for more details)
HISTORY:
For more detailed information about any of the projects (musicians, performances, audio- and visual samples etc.) just click the appropriate icon.
taken part as:

singer/vocalist; ..........

drummer/percussionist;

songwriter/texter/arranger;
(co-)producer